(Click on image to view/download poster)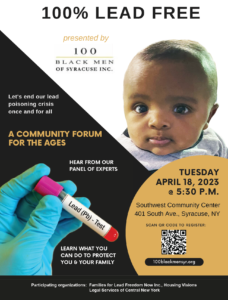 Calling lead poisoning a crisis for one particular Syracuse neighborhood is not mere hyperbole or a gross overstatement. From 2013-2020, an average of 26.5 percent of children tested had elevated blood lead levels in Census tract 54—part of Syracuse's Southside—a majority-Black neighborhood. In 2020, 32.5 percent of children had high blood lead levels in this tract. The tract is 84 percent Black, and 40 percent live in poverty. Looking at all Black children in Syracuse that same year, 11.8 percent tested were found to have elevated blood lead levels. The percentage for Syracuse in all populations was 9.0 percent, more than twice that of Onondaga County. A year later, the problem was even worse.
Why a crisis? There is no safe level for lead in a human being's bloodstream. For children particularly, the impact of prolonged exposure to lead can be devastating and lead to irreversible neurological injury. The effects include permanently altering a child's development, anemia, stomach pain, constipation and gastrointestinal symptoms. There's even evidence that lead poisoning can lead to high blood pressure and heart problems as adults.
Even with the efforts made locally in recent years, such as remediating and replacing lead paint-ridden exterior doors and windows in Syracuse rental units, lead poisoning remains a stubbornly serious public health issue. It's why 100 Black Men of Syracuse realizes it must do its part by joining forces with agencies and organizations like yours for a special community forum, scheduled Tuesday, April 18, 2023 at the Southwest Community Center, 401 South Ave. The purpose is to not only to educate you, tenants, homeowners and landlords about the sources and risks of lead exposure, but to offer solutions and resources to end this scourge on our community.