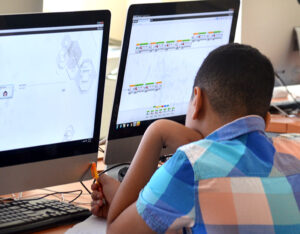 100 Black Men of Syracuse has announced the October/November dates for its 2021-2022 Youth Empowerment Programs, a weekly academic enrichment program for 4th to 8th grade students that began Oct. 16. Class sessions, which run concurrent during the school year on Saturday mornings at 10 a.m. to 12 noon, are scheduled:
Oct. 23, Oct. 30, Nov. 6, Nov. 13 and Nov. 20.
While most sessions are conducted remotely via Zoom because of the pandemic, in-person field trips are planned once each month with COVID-19 safety protocols enforced. For more information about YEP, email Dorothy Clark at 100bkmsyr@gmail.com or call (315) 443-8749.
Free enrollment is still available via an online form that must be completed by a parent or legal guardian.